Saltair Community Centre
The Saltair Community Society, a not for profit Corporation, facilitates the operation of the Saltair Community Centre.  The Centre  is home to ILM Daycare, JEM Registered Massage Therapy, Chemainus Art Group, Saltair Quilters, WestView Learning (computer tech classes), Align With Jessica (Yoga), and Russell Stagg, (Registered Clinical Counsellor),  If you are looking for a room to rent for a specific function, see below for further details or call: 250-210-8180 to book.
Available Spaces for Rent:
2 regular sized classrooms, Room 17 and Room 18 both at  (900 sq ft) are available from 8 am-9 pm weekdays and weekends- $15.00 for the first 2 hrs and $7.50 for each additional hour thereafter. Please call 250-210-8180 to book.
Room #17
Room #18
Auditorium Rental
Auditorium Rental – Size: 1800 sq ft, Rental Rate: $25.00 for a two hour minimum, $10.00 for each hour thereafter. Special Event Rate: $125.00/day.
Features: stage, with sound equipment, speaker's podium, stage bolsters,small kitchen prep area (No stove or fridge), seating for 150 persons.  Call: 250-210-8180 to book
Are You Interested in Joining a fun Group? See the following Choices for more Info……
Saltair Yoga – Iyengar Spring Session
Tuesday and Thursday mornings 9-10:15 am
** there will be no class on Thursday, March 28th
Whole session (31 classes): $320
8 class pass (can be used for any Tuesday or Thursday class): $110 – renew as needed.
Building a Foundation, part II will:
Focus on the building blocks of correct alignment: posture, strength, flexibility, stamina, balance and proprioception/awareness. Additional focus will be on how to build a practice at home. Even 5 minutes a day! Work well with heart and humour and be rewarded with a deep, nourishing restoration.
Offer Yoga for Every Body. Beginners and all levels encouraged!
These are beginner classes for those new to yoga or new to Iyengar yoga. Iyengar yoga is taught by rigorously tested teachers who train over several years: anatomy, philosophy, and practical, applied teaching skills. The Iyengar method offers yoga that is progressive, detailed, hands on, safe and accessible to every body.
Here is what students in Saltair are sharing about their experience:
"Your classes are fabulous! I had hip surgery last January and my hips felt better after this morning's class than they have felt in a year! Thank you!" – Deborah Zellermeyer
"I have practiced a variety of yoga styles for many years and am only now hearing through Jessica's Iyengar classes, how to pose properly. Jessica demonstrates point by point how to position and offers instruction which ensures safe and effective practice. I always feel grateful for our class." – Celia Norris
"After a few weeks of teaching by Jessica, I am in love with this amazing yoga practice. Jessica is cheerful, professional, exceptionally knowledgeable and always fully prepared for the classes. She gives excellent group instructions and individual corrections to bring out the best in each of us in our practice. I have re-registered for additional classes and plan to make Jessica's classes and Iyengar yoga a basic in my life." – Deirdre Saunders
Certified Iyengar Yoga Instructor
"Yoga allows you to rediscover a sense of wholeness in your life, where you do not feel like you are constantly trying to fit broken pieces together." B.K.S. Iyengar
Chemanius Art Group
The Chemainus Art Group is collaborative group of 60 plus artists that have formed a membership and a permanent home in Saltair Centre. They gather throughout the week, to meet, create art, develop their skills, share knowledge and socialize. The group is promoting art culture in the area and fully invested in the success of Saltair Centre. See below for  photos of the group helping to spruce up the Centre and artists creating artworks.
"Lovely group of like-minded artists who enjoy painting together, a great diversity of media and approaches -they are always willing to share their experience and we all benefit from this interACTIVE club!"  – Lauren Spilsbury
For further information email: happypair [at] shaw [dot] ca or check out this link to the group's Facebook page https://www.facebook.com/chemainussketchgroup
Saltair Quilters and Fiber Arts

The group is busy creating beautiful pieces of art at Saltair Centre.
Would you like to participate in a Yap and Yarn adventure?
We meet every Tuesday from 9:30 a.m. to 3 p.m. at the Saltair Community Centre, on South Oyster School Rd., formerly known as Mt. Brenton School.
We call ourselves the Saltair Quilters but we don't just quilt, we knit, crochet, embroider, stitch and bead. The result of our efforts are always artistic and sometimes even useful.  🙂
Do you feel the need to socialize and craft? Come, drop in, bring a craft  and join in and you will find us welcoming to all!
See the following photos of some of the items that are being lovingly created.
If you are interested in joining the group , they quilt together every Tuesday, from 9:00 am to 3:00 pm at the Saltair Centre.
Contact: Christa Stegemann, 250-245-2016 for further details or email Susan: smmaycock [at] hotmail [dot] com.
Saltair Mom's Group

Welcome everyone! The purpose of this group is to organize, play dates, make friends and get to know your neighbours in Saltair!
Check out our Facebook page: Saltair Mom's Group.
Membership: Saltair Community Society
Are you interested in joining the Saltair Community Society? We welcome those who  would like to support  or endorse the endeavours of the Saltair Community Society.  Click on green highlighted text below to open our membership form. Please print/fill out and either drop off at Saltair Centre Room #20 or mail in to the address supplied on the membership form. form – Membership fee is $10.00/year, or $15.00/yr for a family. If you are an existing member it is required  to renew annually to remain a member in good standing.  Thank you.
If you are looking for ways to get involved, volunteers are eagerly needed in the following areas:
Work parties for: interior/exterior maintenance, painting, pressure washing, planter box maintenance, and grounds clean up.
Fund Raising events
Event Planning
Grant Application writing
Organize coffee/tea/baked good social gathering, weekly or monthly
On behalf of the Society's Board of Directors,  we would like to thank the many residents of Saltair who have supported the vision of a Saltair Centre as we build community wellness for future generations. Your encouragement is very much appreciated!
Saltair Extravaganza 2016
On February 6th, we hosted the community officially change the name from Mt. Brenton School to the Saltair  Centre. There was a cutting of the ribbon and cake by the original student, Gloria Hill, who named Mt Brenton School in 1950. Ron Madden performed the duties of Master of Ceremonies. Over 200 people attended the event where local singer and songwriter Terry Boyle performed his song "Sunny Saltair".
Special thanks to the secondary school students Madison Hendricks, Emma Brunt, Noah Hendericks, Emily Wilson, Benjamin Blackley and Logan Godau for their help setting up and programming
Ken and Diana MacTavish did a terrific job at decorating the centre with "I Love Saltair" Valentines theme. Sean Jonas was in charge of the food and the publicity, Dave Key purchasing and operations, John Silins and Bill Cleary, set up and take down. Ed Nicholson worked hard to develop Saltair Historical Society with family story boards posted around the entire building, hallways and gym.
Thanks to Gary and Sandra Hendricks who did a tremendous amount of work with the story boards and the set up.
Christa Stegemann of the Quilting Society displayed their efforts at the event to promote a quilting group in Saltair.
Submitted by Mel Dorey Area G Director (2016)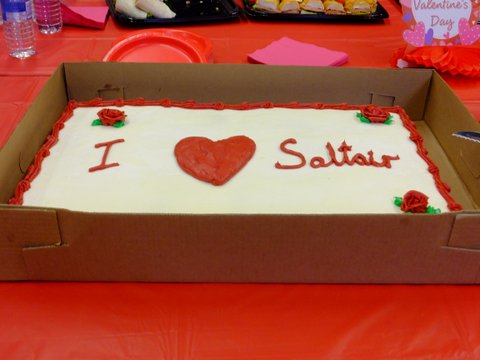 Click here for the full story from Ladysmith Chronicle